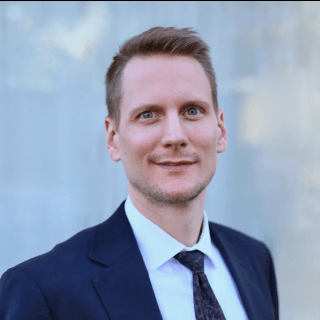 Michael Zamzow
It doesn't need to be complicated for you. Call now.
Business Law, Construction Law, Real Estate Law ...
Michigan
Claimed Lawyer Profile
Q&A
Responsive Law
Grand Rapids, Michigan attorney Michael Zamzow, partner at Zamzow Fabian PLLC, is widely respected for his years of litigation experience. His approach to the law and dedication to his clients has earned him a reputation as a fierce advocate who is unafraid to take on even the most complex cases.

At the heart of Zamzow's success is his commitment to his clients. He takes the time to get to know them, understand their needs, and develop a tailored strategy. He is also deeply committed to upholding the highest ethical standards in his practice, building strong relationships with judges and court personnel. This combination of legal skill, ethical integrity, and personal dedication has made him one of the most respected litigators in Grand Rapids.

Zamzow's success is the result of years of hard work and dedication. He earned his Juris Doctor degree following his bachelor's degree in the University of Wisconsin system and quickly made a name for himself as a rising star in the legal community.

But it's not just his legal achievements that make him so respected. Zamzow is also involved in the community, volunteering with local organizations. It's this commitment to giving back that sets him apart from other litigators, and that has earned him the admiration of his peers.

In the end, what makes Michael Zamzow so respected in Grand Rapids is not just his legal skills or his track record of success. It's his unwavering commitment to his clients, his integrity and professionalism, and his dedication to the highest ethical standards.
Business Law

Business Contracts, Business Dissolution, Business Formation, Business Litigation, Franchising, Mergers & Acquisitions, Partnership & Shareholder Disputes

Construction Law

Construction Contracts, Construction Defects, Construction Liens, Construction Litigation

Real Estate Law

Commercial Real Estate, Easements, Eminent Domain, Homeowners Association, Neighbor Disputes, Residential Real Estate

Employment Law

Employment Contracts

Securities Law
Free Consultation
Credit Cards Accepted
Jurisdictions Admitted to Practice
Michigan
6th Circuit
English: Spoken, Written
German: Written
Spanish: Written
Partner

Zamzow Fabian PLLC

- Current
Partner

Zamzow PLLC

-
Western Michigan University

J.D. | Juris Doctor
Professional Associations
Grand Rapids Economics Club

Current
Grand Rapids Bar Association

Current
Litigation Section of Michigan Bar Association

Current
Activities:

As a respected attorney with significant litigation experience, Michael uses his skills and knowledge to contribute to the association's reputation and in furtherance of advancing the legal profession and in support of the community.
Michigan Bar Association

Current
Articles & Publications
Zamzow Fabian PLLC, blog
Physician Contracts: Entering the Practice On the Right Foot

, Boston Medical College, Virtual Seminar

Boston Medical College, Residency Program
Physician contracts are crucial legal agreements that specify the terms and conditions of a physician's partnership or employment with a medical organization. They encompass factors such as compensation, benefits, work schedule, job responsibilities, and termination clauses. Entering a new medical practice requires taking necessary measures such as comprehending the physician contract's terms, outlining job expectations, and building constructive connections with colleagues ... [and more]
Real Property Managers and the Fair Housing Act

In 2015, the Supreme Court issued a ruling that the Fair Housing Act encompasses claims based on "disparate impact," meaning policies that disproportionately affect protected classes even if there was no intent to discriminate. This decision strengthened the Fair Housing Act's ability to combat discriminatory practices and increased the burden on Real Property Managers to ensure their policies do not have an adverse impact on protected groups. Additionally, HUD released a new rule [... and more]
Real Property Managers and the Fair Housing Act

The Fair Housing Act prohibits housing discrimination based on factors such as race, color, national origin, religion, sex, familial status, and disability. This law covers all aspects of housing, including renting, buying, and financing. Real Property Managers must comply with the Fair Housing Act to prevent legal action and penalties. This includes treating all tenants and applicants equally, avoiding discriminatory language in advertisements, making accommodations ... [and more]
Real Property Managers and the Fair Housing Act

In 2013, the Department of Housing and Urban Development (HUD) issued a rule that expanded the Fair Housing Act's protections to include discrimination based on gender identity and sexual orientation. This change prohibited landlords and other housing providers from discriminating against individuals based on their sexual orientation or gender identity. Additionally, HUD updated its guidelines for determining whether a housing practice constitutes discrimination under the Act, [ ... and more]
Licensed to Practice Law

Michigan Bar Association
204 Questions Answered
A: Maybe. But, it depends largely on whether or not you have a written contract with fixed employment terms within it.

It can be a little complicated (for the employer) when it comes to eligibility for health insurance, UIA, or other things, but generally, at will employees serve at the will of the employer. That might mean, even if it wasn't disclosed to you, your employer can choose when you work.

You might consider talking with an employment attorney to get a consultation or legal advice, which this -- is not -- legal advice.
Q. My lease ends in May my landlord said I can't fix damages before that and he is keeping my SD. Can he do this?

A: You've raised quite a lot of potential issues. First, I think you're probably on the right track, listen to your gut and do some research if you're unable to hire an attorney.

Now, the following --generalizations-- might help narrow down your search (but don't limit yourself to this list). Do not construe this as legal advice specific to your situation, this is merely a place you might consider starting your research from.

- At the start of the lease, the landlord shall provide to the tenant two copies of the inventory check list. (MCL 554.608)

- Think of the security deposit as the property of the tenant, held by the landlord until they can 'trigger' their ownership. (MCL 554.605)

- The security deposit cannot exceed 1.5x rent (If rent is $2,000 then the security deposit can be up to $3,000) (MCL 554.602)

- The security deposit may ONLY be used for two reasons (abridged): "(a) Reimburse the landlord for actual damages to the rental unit [...] that are the direct result of conduct not reasonably expected in the normal course of habitation of a dwelling. [OR] (b) Pay the landlord for all rent in arrearage under the rental agreement [...] and for utility bills not paid by the tenant." (MCL 554.607)

- - There's a lot to breakdown there, but "actual damages" might be one limiting factor, "direct result of conduct" might be another limiting factor, and "normal course of" might be a third limiting factor.

- Process for move-out and the security deposit:

- - Within 4 days of moving out, the tenant must provide a forwarding address (MCL 554.611).

- - Within 30 days, the landlord must then (x) either return the entire security deposit, or (y) provide an itemized list with a check for the remaining balance (MCL 554.609).

- - Then within 7 days of receiving itemized list, the tenant must respond with either agree or detailed disagreement of the itemized list by mail (MCL 554.612).

- - Then within 45 days of move-out (not after) the landlord must sue the tenant to obtain the security deposit (MCL 554.613).

- - If the landlord does not file to sue the tenant within 45 days, then the tenant can sue the landlord for the return of the deposit (MCL 554.613).

You might fight answers to your other questions here:

Resources:

- There is a handbook for landlords and tenants through the State of Michigan, found by searching "landlord tenant handbook Michigan" and maybe also through this link: https://www.legislature.mi.gov/Publications/tenantlandlord.pdf

- West Michigan legal aid and other organizations have self help information on their websites.

For example: https://michiganlegalhelp.org ... Read More
Q. Can an employer refuse to pay for my medical bills if I have a seizure at work and they call an ambulance?

A: Had the employer not called an ambulance it might be a wildly different situation and then you might have a cause of action against them. If it helps, imagine if you called an ambulance on behalf of someone, and they asked you to pay for it for simply making a phone call. That could serve as a deterrent, and generally we want people to help others.

It may help to also be aware, under Michigan law, workers' compensation benefits are generally the sole and exclusive remedy for work-related injuries or illnesses. This means that workers cannot file a lawsuit against their employer or co-workers for damages related to a work-related injury or illness, except in limited circumstances where

the injury was intentionally caused by the employer. Workers' compensation benefits are designed to provide injured workers with prompt and efficient medical care and compensation for lost wages, and to help them return to work as soon as possible.

... Read More
View More Answers
›