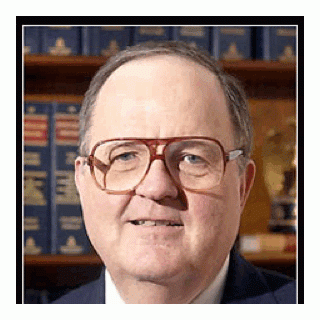 Honorable Wayne O'Bryan Sr
Service is the Best Way of Life
Wayne O'Bryan grew up in an average home, but being ambitious, he worked his way through college and law school as a waiter. He was the first in his family to become a lawyer and only the second to get a college education. His father was a foreman in a tobacco factory and his mother was a housewife.
Wayne attended law school at the College of William and Mary in Williamsburg, Virginia where he was president of the student body. He went on to be president of the law alumni where he pioneered its first fundraising program (which has since mushroomed to a million dollar a year operation).
After graduating, Wayne practiced law for three years with a firm representing insurance companies. After learning their tricks and seeing precisely their attitudes, he decided he didn't like the way they operated.
Therefore, he decided to go into general practice on his own where he began representing individuals in DUI and other kinds of cases.
The Path to Service
In 1977, Wayne was elected to the House of Delegates where he served four years on the Courts of Justice committee. He saw firsthand how our legislative system works and, more importantly, how it does not. He was able to see the influence of big insurance companies and that the rights of the average person were not being protected.
In 1981, Wayne formed a partnership which handled only personal injury cases. This establishment evolved into the largest personal injury firm in Virginia.
In 2000, Wayne retired from the firm, but quickly discovered that he did not like being retired. He then decided to return to a solo practice to help individuals. He disliked being in a big outfit and now enjoys being away from the hassle of running a large law firm. Wayne is fulfilled in his endeavors by working with individuals and their families.
A hallmark of Wayne's career has always been client service. He has published an article in a national publication, "Trial", about keeping clients informed regarding their case. Many lawyers don't understand the importance of this. Wayne does and he emphasizes it. "After all, it's the client's case," states Wayne.
When Wayne is asked what is the one theme in his life and career, he answers, "It is service. I served and gave of myself and my time as president of the law school student body, my law alumni group, the legislature and as a lawyer to my clients."
Wayne knows firsthand how difficult it is to deal with large impersonal bureaucracies. More importantly, he knows how they treat and mistreat people, and how they take advantage of them and their ignorance of the process. When he can step in and help someone stand up to this abuse, it makes him feel good. He declares, "I feel that what I do for clients makes a difference in people's lives and I like that."
Fighting For Justice
Wayne has championed the rights of individuals. He triumphs on behalf of victims and their families. "Only by assigning liability where it belongs," he says, "can we create the level of accountability a thinking society demands."
Now, Wayne is very satisfied with the way he practices because it allows him to interact with clients more frequently. He will return all phone calls promptly, usually within several hours.
In his work, Wayne's main concern is for the individual, but he is also working for the good of society as a whole. Most meaningful to Wayne is that he makes a difference to his client and to society.
Wayne has been married for 36 years and has one son and two grandchildren (to whom he is partial).
Personal Injury

Animal & Dog Bites, Brain Injury, Car Accidents, Construction Accidents, Motorcycle Accidents, Premises Liability, Truck Accidents, Wrongful Death
Founder

Chandler, Franklin, and O'Bryan

-
Website
Richmond Personal Injury Lawyer