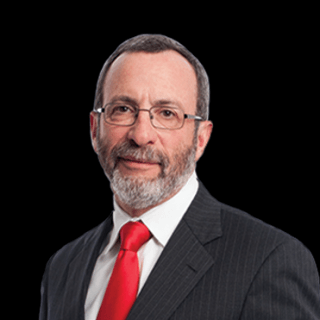 David S. Pollock
Pollock Begg Komar Glasser & Vertz LLC
For nearly four decades, David S. Pollock has practiced family law to help individuals and families as they transition through tough times. He is a founding member of Pollock Begg Komar Glasser & Vertz LLC and was previously a partner and head of the Matrimonial Law Group at Reed Smith LLP. David focuses on the economics of pre-marital agreements, separation, divorce, or unmarried partners, equitable distribution, support, and alimony, as well as estate planning, business and family succession planning as an adjunct to his family law practice. He works with both traditional divorces and large cases that require complex business valuation, framing of assets, net disposable income, taxation, and all aspects of complicated financial matters involved in such cases. David works closely with his clients' attorneys and accountants to achieve their goals.
Family Law

Adoption, Child Custody, Child Support, Father's Rights, Guardianship & Conservatorship, Paternity, Prenups & Marital Agreements, Restraining Orders, Same Sex Family Law
Founding Partner

Pollock Begg Komar Glasser & Vertz LLC

- Current
Duquesne University School of Law

J.D. (1974) | Law
Eric Turner Memorial Award

Pennsylvania Bar Association
Diamond Award

Pittsburgh Business Times
Years of Service Award

Washington County Bar Association
Family Law Section Special Achievement Award

Pennsylvania Bar Association
Named to List

Pennsylvania Super lawyers
Named to the Pennsylvania Super Lawyers list every year since 2004.
Named to List

Best Lawyers in America
Named to Best Lawyers in America list since 1997.
AV Preeminent

Martindale-Hubbell Peer Review ratings
Ranked AV Preeminent by Martindale-Hubbell Peer Review Ratings since 1981.
Named to Top 50 Attorneys in Pittsburgh List

Pennsylvania Super lawyers
Named to Super Lawyers Top 50 Attorneys in Pittsburgh for more than a decade
Professional Associations
Allegheny County Bar Association

Fellow
Current
American Bar Association

Member
Current
Pennsylvania Bar Association

Life Fellow
Current
Washington State Bar Association

Member
Current
Westmoreland County Bar Association

Member
Current
State Bar of Pennsylvania

&nbsp# 19902

Member
Current
International Academy of Family Lawyers

Fellow
Current
Allegheny County Bar Foundation

Fellow
Current
American Academy of Matrimonial Lawyers

Fellow
Current
Articles & Publications
Editor-in-Chief, Various Columns and Editorial Comments

Pennsylvania Family Lawyer
AAML Hot Tips: Your Attorney Fees, Costs and Expenses May Be Dischargeable in Bankruptcy (January 15th, 2014)

, PBA: Family Law Section, Winter Meeting

Pennsylvania Bar Association
AAML Hot Tips: Your Attorney Fees, Costs and Expenses May Be Dischargeable in Bankruptcy (January 15th, 2014)

, PBA: Family Law Section, Winter Meeting

Pennsylvania Bar Association
Overview of Family Law (May 17, 2000)

, Pittsburgh Paralegal Association

Pttsburgh Paralegal Association
Pragmatic Custody (April, 1999)

, PBI: Tips from the Frontline

Pennsylvania Bar Institute
Domestic & Matrimonial Torts (June, 1998)

, PBI: Domestic & Matrimonial Torts

Pennsylvania Bar Institute
"Child Support, Spousal Support and Alimony Pendente Lite" (March, 1998)

, PBI: Fundamentals of Family Law

Pennsylvania Bar Institute
"How to Obtain a Support Order" (October 16th, 1997)

, PBI: Essentials of Pennsylvania Practice

Pennsylvania Bar Institute
"Child Support, Spousal Support and Alimony Pendente Lite" (April, 1997)

, PBI: Fundamentals of Family Law

Pennsylvania Bar Institute
Drafting Marital Settlement Agreements (December 11, 1996)

, PBI

Pennsylvania Bar Institute
Labeling Assets (October 22nd, 1996)

, PBI: Equitable Distribution Update

Pennsylvania Bar Institute
"Phantom Income" and "Isolation of IRS Assets and Liabilities (November, 1996)

, PBI: First Annual law Institute

Pennsylvania Bar Institute
Economic Aspects of Divorce, "Earning Capacity" and "Support Guidelines" (December 14th, 1995)

, PBI: Advanced Family Law Symposium

Pennsylvania Bar Institute
Divorce and Bankruptcy (July, 1995)

, PBI: Divorce and Bankruptcy

Pennsylvania Bar Institute
Tax Aspects of Child Support (June-July, 1995)

, PBI: Tax Traps in Divorce Law

Pennsylvania Bar Institute
Expert Witnesses and Discovery: "Effective Use of Business/Professional Practice Appraisers" (October, 1994)

, PBI: Expert Witnesses and Discovery

Pennsylvania Bar Institute
"Sometimes You Just Gotta Make the Rules" (April, 1994)

, PBI: Advanced Equitable Distribution

Pennsylvania Bar Institute
Fundamentals of Family Law: Child Support, Spousal Support, and Alimony Pendente Lite (February-March, 1994)

, PBI: Fundamentals of Family Law

Pennsylvania Bar Institute
General Practice Tidbits and Tie-Ins (January, 1994)

, PBI: Hot Tips in Family Law

Pennsylvania Bar Institute
Complex Support Issues (1995)

, PBI: Family Law Section, Summer Workshop

Pennsylvania Bar Institute
Child Support, Spousal Support, Paternity and Alimony Pendente Lite (1995, 1996)

, PBI: Family Law Section, Semi-Annual Update

Pennsylvania Bar Institute
Spendable Income - Fact or Fiction: Finding Real Income and What The Court Does With It When You Get It Into Evidence (1993)

, PBI: Family Law Section, Summer Workshop

Pennsylvania Bar Institute
Valuation of Assets: Date of Valuation and Spousal or Non-Spousal Participation in Increase or Decrease in Value (1992)

, PBI: Family Law Section, Summer Workshop

Pennsylvania Bar Institute
Matrimonial Lawyers Consideration: Retainers (1996)
Child Support/Spousal Support/Alimony Pendente Lite Case Law Updates (1990, 1999)

, Bench-Bar Family Law Section
Interstate Family Law Litigation (1990)

, Family Law Section, Summer Workshop
Pennsylvania Chapter in conjunction with ACBA: Business Valuation in Equitable Distribution (1998)

, AICPA

AICPA
Statutory Update & Protection From Abuse (1987)

, Bridge the Gap Committee
Marriage Settlement Agreements (1991)

, Family Law Section, Summer Workshop
Custody Trends, Hot Issues, Emerging Arguments, Food for Thought (1991)

, Family Law Section, Winter Workshop
Custody, Partial Custody and Visitation, Paternity, Termination of Paternal Rights (1987, 1990)

, Semi-Annual Update
Matrimonial Law and Procedure (1994, 1995)

, Allegheny County Practicum Skills Training Course

PAICPA
An Outline and Overview Prepared for the George R. Harris & Associates Certified Public Accountants & Tax Preparers Continuing Professional Education Seminar (1995, 1996, 1998)

, PAICPA: Tax Aspects of Separation and Divorce

PAICPA
Real Estate Transactions (1996)

, Family Law Section, Winter Workshop
Rules, Case Law and Legislative Updates (1997)

, Family Law Section, Winter Meeting
Retirement Planning (1997)

, Family Law Section, Winter Meeting
Non-Qualified Deferred Compensation Plans and Military and Government Pensions (1998)

, PBA: Family Law Section, Winter Meeting

Pennsylvania Bar Association
Advanced Custody Relocation Issues (1999)

, PBI

Pennsylvania Bar Institute
Rental Credits and other Hot Topics (1999)

, PBI: Tax Reform Act Changes

Pennsylvania Bar Institute
Support (1999)

, PBI: Third Family Law Institute

Pennsylvania Bar Institute
Forms 1040, 1065, 1120, K-1: Simple and Not So Simple Explained (2000)

, PBA: Family Law Section, Winter Meeting

Pennsylvania Bar Institute
Technology for the Family Lawyer (2000)

, PBI

Pennsylvania Bar Institute
Recent Rule Changes, Appellate Decisions and Selected Trial Court Decisions on Child Support, Spousal Support, and Alimony Pendente Lite (2003)

, PBI: Family Law Update

Pennsylvania Bar Institute
Survey of Pennsylvania Cases and Statutes Defining Income (2004)

, Family Law Section, Winter Meeting

Pennnsylvania Bar Association
An Outline and Overview Prepared for CPA, Enrolled Agent and Other Tax Pracitioner Program (1997, 1998, 2000, 2004, 2005, 2006, 2007, 2008 - 2016)

, CCAC: Tax Aspects of Separation and Divorce

CCAC
With Friends Like These: Issues in Real Property Ownership Among Unmarried Individuals (2007)

, PBI: A Day on Real Estate

Pennsylvania Bar Institute
Amendments to Divorce Code, Equitable Distribution and Double-Dipping (2008)

PAICPA
Property Settlement Agreements (2008)

Pennsylvania Bar Institute
E-Mail and the Internet in a Domestic Relations Practice (2009)

Pennsylvania Bar Institute
Drafting Marital Settlement Agreements (1999, 2003, 2009)

Pennsylvania Bar Institute
Death During Divorce: Issues You Haven't Even Thought Of (2010)

, Family Law Section, Winter Meeting

Pennsylvania Bar Association
Hot Tips Regarding Ethical Dilemmas for the Family Law Attorney (2012)

, Family Law Section, Winter Meeting

Pennsylvania Bar Association
CCAC: Tax Aspects of Separation and Divorce (2005-present)

, Continuing Legal Education

CCAC
PSU: Tax Aspects of Separation and Divorce (2010, 2013)

, PSU

, PSU
AAML Hot Tips: Engagement to Closing, Closing Letters (January, 2011)

, PBA

PBA
AAML Hot Tips: Conflict of Interest: Former Client – "Same or a Substantially Related Matter" (January, 2012)

, PBA Family Law Section, Winter Meeting

PBA
Hot Tips Regarding Ethical Dilemmas for the Family Law Attorney (January, 2011)

, PBA Family Law Section, Winter Meeting

Pennsylvania Bar Association
Hot Tips Regarding Ethical Dilemmas for the Family Law Attorney
Marketing for Family Lawyers (July, 2012)

, Family Law Section, Summer Meeting

Pennsylvania Bar Association